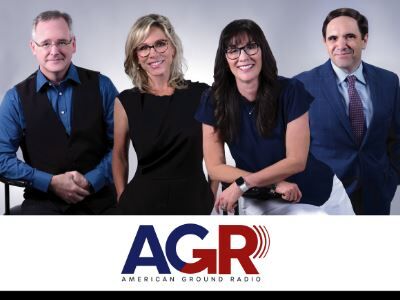 American Ground Radio features interviews and analysis of the day's news, but with the uncommon perspective that when you change the way you look at things, the things you look at change.
Hosted by Louis R. Avallone and Stephen Parr, along with "mamas" Teri Netterville and Denise Arthur, American Ground Radio is for anyone who believes there is greatness within each of us – that we can do great things, and that this country can be great again – if we can only focus on what's working, and how to do more of that, instead of just focusing on what's broken, and how to fix it.
There's a saying that the pessimist complains about the wind, and the optimist expects it to change, while the leader adjusts the sails.
This show is for those of you who want to adjust the sails.
Listen to us on American Ground Radio now weekdays evenings at 6 PM and 5 PM every Saturday afternoon on 101.1 FM The Answer and streaming live at www.1011fmtheanswer.com and be sure to "Like" us on Facebook.
Show Links:
---
Louis R. Avallone is a husband and father, pilot, lawyer, entrepreneur, construction contractor, and author whose political opinion columns have been published regularly in newspapers and magazines across the country, and he appears regularly on radio and television.
As the first generation son of an Italian immigrant, he's also had a front row seat to the promise of the American Dream. He served on Capitol Hill as a Congressional aide to U.S. Representative Jim McCrery, as an Elector in the Electoral College for President Trump, and has served in many leadership positions, wherever the conservative cause can be advanced, and whenever there's an opportunity to inspire.
He is a graduate of Southern Methodist University in Dallas, where he earned his B.S. in Political Science and his B.A. in Psychology. He is also a graduate of Loyola Law School in New Orleans, where he earned his law degree.
Louis can be reached at [email protected].
Stephen Parr is a two-time Emmy nominee with almost two decades' experience in broadcast journalism. During his award-winning career, Stephen has interviewed Laura Bush, Bill O'Reilly, Sean Hannity, and many other political leaders and newsmakers, throughout the country.
As the son of a West Point graduate, he grew up with the words "Duty, Honor, Country," as a household constant — reminding him of what America is, and what she represents. Stephen earned a Bachelor's in Marketing from the University of Texas, and then a Masters in Geosciences from Mississippi State University.
Along with his deep appreciation for American history, he's now combining his lifelong passion for politics and love of country to ensure the blessings of liberty are passed on to the next generation of Americans, through his work with conservativeground.org and conservativekid.com. You can also follow Stephen on Facebook and hear his podcast, America on Parr, on iTunes.
You can reach Stephen at [email protected].
Teri Netterville lives in Shreveport, Louisiana, with her husband of 22 years, Kevin, and their three children, Steele (19), Summer (17) and Slade (15).
When not managing their home and family, Teri enjoys writing, speaking, volunteering and especially sitting in the stands cheering on each of her three children in whatever sport they are playing at the time.
Teri is known for using her humor and sharing her faith when discussing life issues with her listeners.
As a mom, the one thing she hopes to instill in her children is a genuine love for others. Her motto is simple:
"Be good to people. It really is that simple. Just be good to people. It cost nothing, but means everything."
She hopes to help her listeners keep things in perspective. She also hopes to help them try and find the good in everyone and in every situation.
Denise Arthur is 54, and was born and raised in Shreveport, LA. She graduated from Woodlawn High School in 1981 and attended Louisiana Tech, LSUS and Northwestern State University. She has worked for Drs. Brown and O'Neal for nearly 30 years. Denise has been married to Marty Arthur for over 20 years and they have one son together, Nicholas Arthur, who is studying Biology at LA Tech and one step-son, Kory Arthur, who has a Masters in Chemistry and waiting to start a PhD program in Molecular Biology. Her husband, Marty, has worked for UPS for nearly 30 years and he hails from Many, LA.
"We are hardworking middle America. We are members of Grace United Methodist Church were we love to sit along sinners and messy people just like ourselves. We love God, family and America."
"I have always been fortunate to be a part of a group of Mamas like myself since the boys were very small. Soccer moms, basketball moms, baseball moms, football moms, PTA moms and moms of any color, creed or religion. I love being a mom, it is my greatest gift from God. I am not perfect at it but I never stop trying to get it right. My friend Teri Netterville and I hit it off instantly when our boys were Freshman football players at Byrd. Our hearts and beliefs run parallel and we solve all the world's problems daily. We love to laugh and go into our southern personalities with our own special sense of humor. We are just trying to be real and relatable to all Mamas that have a voice and want to engage or mamas that are trying to find their voices and feel safe with other mamas."