Review: "Mary Poppins Returns"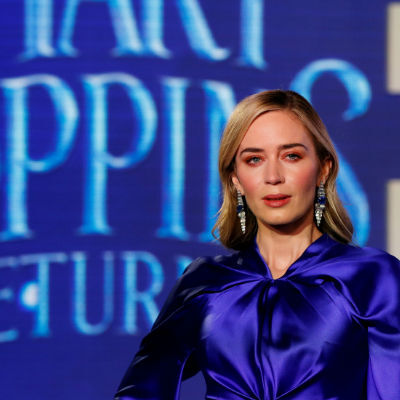 In 1964, Julie Andrews and Dick Van Dyke teamed up for Mary Poppins, one of the most enchanting Disney films of all time. The film became a massive hit and earned its status as a cinematic classic.
Returning to the beloved story decades after the original release was undeniably risky but Disney has done just that with the new follow-up Mary Poppins Returns. The new film, which stars Emily Blunt in the titular role, doesn't live up to its predecessor but it offers up the same kind of magic that was so evident in the original.
Ben Whishaw and Emily Mortimer co-star as Michael and Jane Banks, the siblings who have grown up since the original film. Michael has a family of his own now with three young children. Their family, alongside housekeeper Ellen (Julie Walters), are struggling with the recent loss of Michael's wife.
If that's not enough, the bank — the same one that once employed Michael's father and now employs Michael — plans to foreclose on the family home.
In this dire environment, the gentle Mary Poppins (Emily Blunt) floats in. Michael and Jane remember Mary fondly but don't believe in the magic they once cherished. With the beloved nanny back in the family home for a visit, Michael's three children are treated to a magical experience of their own.
Like in the classic film, Mary introduces the youngsters to a world of wondrous magic. Here, Mary invites Anabel (Pixie Davies), John (Nathanael Saleh) and Georgie (Joel Dawson) into a few different extraordinary worlds. They visit an underwater paradise via the bathtub and travel into the world of their mother's bowl. Their adventures lead them into a realm of vivid characters, beautiful landscapes and wonderful songs.
Fans of the original will likely love how these adventures compare nicely to the journeys featured in Mary Poppins. Both films include sequences where live-action characters banter and dance alongside animated characters in visually-astonishing showcases.
Many are the same story beats that Mary Poppins fans know and love are followed here. In the original, Mary invited Bert (Dick Van Dyke), a local chimney sweep, into her adventures. Here, she invites Jack (Lin-Manuel Miranda), a local lamplighter, to accompany her and the children.
The fresh-faced cast too seemingly delight in bringing this story to young viewers. The younger actors are delightful and Blunt does wondrous work as the title character. Both Blunt and Miranda have a delightful energy that keeps this story light-hearted and fun. However, the film's undeniable high point arrives when a cast member from the original makes a highly-touted cameo in a climactic scene.
Mary Poppins Returns may have its flaws but its ability to bring palpable joy back to the big screen is quite incredible. Director Rob Marshall, who previously helmed Chicago, and co-writers David Magee and John DeLuca clearly knew what they were doing in this latest installment. Even though the story borrows knowingly from the original film, the magic of this new installment is obvious.
Like The Force Awakens — which borrowed many of the key elements from earlier films in the franchise — Mary Poppins Returns relies steadily on its predecessor's formula, recognizing what fans are likely looking for in a sequel.
Even as it follows a formula, Mary Poppins Returns joyfully presents its story with a charm and ease that's hard to deny. There are plenty of wonderful-staged sequences here (including a dancing sequence of the lamplighters) and great songs (A Cover is Not the Book and The Place where Lost Things Go immediately come to mind).