"Finding You" Review: A Charming Romantic Drama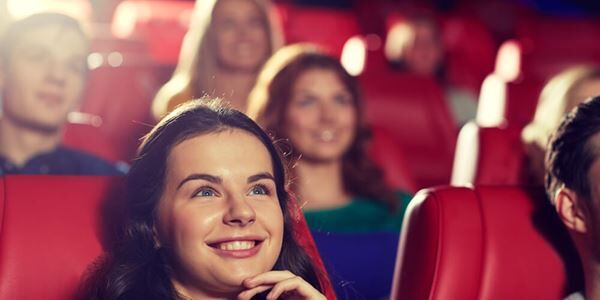 By John Hanlon
The new teen romance Finding You has a quiet and gentle spirit that's hard to turn away from. Set in Ireland, the drama focuses on a violin player who takes a semester abroad in hopes of changing her life. Written and directed by Brian Baugh, the plot covers familiar territory but has a charm all on its own.
The drama follows Finley Sinclair (Rose Reid), a young musician who just faltered at an audition. Taylor wants to attend a prestigious school but can't seem to get out of her own way. She realizes she needs a change and decides to spend a semester abroad. She moves in with the same loveable but big-hearted family her brother lived with when he did the same thing.
On her plane ride across the ocean, Finley sits next to a charming but self-indulgent actor named Beckett Rush (Jedidiah Goodacre). As fate would have it, Beckett will be staying at the same place Taylor's slated to stay at.
Of course, these two main characters dislike each other early on. Fortunately, the familiar concept works because the leads are committed to the concept and their antipathy towards each other never feels forced. They don't actively hate each other. They just don't like each other. While Reid plays the straight-laced character well, it's the charming Goodacre whose charisma springs the plot alive.
Goodacre's character Beckett is dealing with his own failings. The star of a series of films where he battles dragons, Beckett longs for a more typical existence. His father Montgomery (Montgomery Rush) manages him like a product, pushing for the press to portray him as a bad boy to boost his career. Despite spending much of his time in the countryside, Beckett appears in the press as a playboy in an on-again off-again relationship with his co-star Taylor (Katherine McNamara).
Much of the drama follows the two main characters but the story also offers a few great lessons about following your own dreams, seeing people for who they truly are (and not simply as a superficial level) and even forgiveness. In a small role here, Vanessa Redgrave co-stars as a grouchy woman who reportedly stole her sister's fiance years earlier.
Like in Notting Hill or the more recent My Week with Marilyn, this film touches on celebrities and how they are often defined by the press. By focusing on young people and specifically a burgeoning actor whose own father admits "His love life is his career," Finding You offers some insights into young Hollywood and how stars are sometimes trapped by their fame.
Finding You has some weaker elements including a subplot about a cemetery stone that doesn't work as well as it could. However, the film has charm to spare and the cast -- especially Goodacre, who reminded me of a young Heath Ledger -- seem to embrace the story's warm-hearted personality. There are some familiar beats here but the romantic drama finds a way to succeed despite its flaws.
From Goodacre's performance to its important life lessons to the beautiful Irish scenery, Finding You finds a way to stand out and will likely charm viewers who are willing to give it a chance.